We raked it in this Christmas… and wanna show off our loot!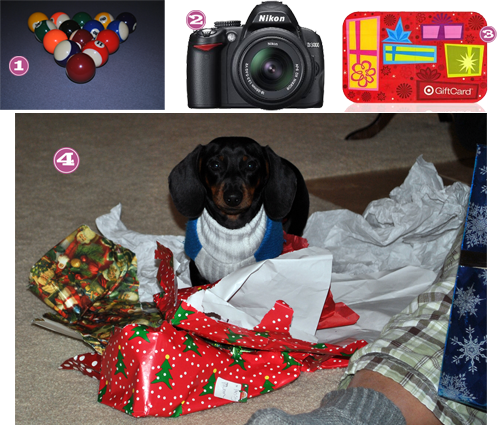 Pool Table, This was for my husband and I originally strongly hated on turning our new house into a pool hall. BUT, I have to say that this is a gift that was 100% loved by all family mems that entered our home over the holidays.
Nikon D300o, My husband took all the major HINTS I had been dropping for like a year and surprised me with a new camera. BEST. GIFT. EVER. Many Christmas pics were taken in much better quality than the 1999 technology I had been using before.
Target Giftcard, Mom really knows how to make Christmas miracles happen at the Der Household.
Gazillion Dog Toys and Christmas Paper to Tear, Zoe and Luca couldn't have had a better time amoungst all the dog toys, treats and holiday wrapping. Dog Holiday Heaven.