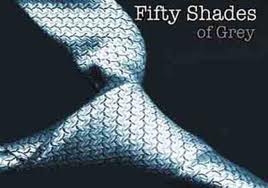 Yes, I am going to talk about that recent (or maybe it was last year, but who knows because I'm always behind the literary times) book phenom: 50 Shades of Grey.
I've obviously been hearing about this trilogy for some time now, but never really considered reading it until I saw Barbara Walters interview of her most fascinating people of the year. When Ms. Walters admitted that SHE read the books, I thought, OK, I can totally handle this. So, over the Christmas holidays when my hubby, toddler, and I were bored to tears with no television and in the middle of nowhere visiting my MIL, I thought it would be a good time to start reading said books…
HOLY SHIT BALLS (technical term), I could literally not put the book down! Within a week I had read the first 2 books read and had started on the 3rd. Whew, I am now completely finished and telling everyone I can think of to read these books. Don't be afraid of the whole BDSM thing, that's not the main part of the story….READ IT!
You'll thank me, E.L James, and start begging Hollywood to make the movie already! 🙂