It's wintery here in Texas.  My lips are dry and peely and just plain sick. I need some assistance in the form of a chapstick, but not your average chapstick. I want something cute and glossy and maybe with a little bit o' color, people. Is that too much to ask? No. It is not.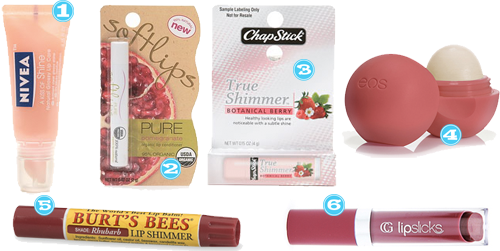 1. Nivea, A Kiss of Shine Natural Gloss– Glossy and smooth with extra moisture. It's workin wonders on me.
2. Softlips, Pure Pomegrante– This stuff is amazing. Soft doesn't begin to describe your lippers with this stuff on them. Any scent shall do, I just like pomegrante anything.
3. Chapstick, True Shimmer Botanical Berry– The tried and true chapped lip brand plus shimmer, yes please!
4. Eos, Lips Balm Sphere in Summer Fruit – Tasty smell and moisturing, just what I like. AND look how cute the packaging is… I'm a sucker for packaging.
5. Burt's Bees, Lip Shimmer in Rhubarb– Just enough color and oh, the moisture. Thirst quencher for thy lips.
6. Covergirl, Lipslick in Daring–  Ok, so this really isn't a "chapstick" but it is a)moisturizing and b) the most divine color ever.. like you just ate a popsicle when you were a kid.