Remember our boot giveaway? Yes, of course we all remember lusting after all those Corral boots from Langston's! Well our winner, Sara (who picked these boots-I'm very jealous!!) has graciously decided to pay it forward and do a giveaway of her own! Sara sells immense cuteness from Thirty-One and is very graciously giving away one Large Utility Tote in the fabric of the winner's choosing along with the embroidery of their choosing.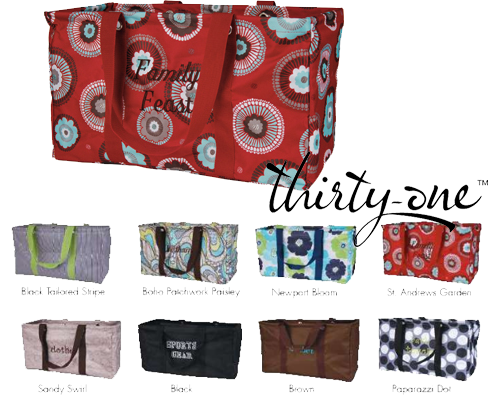 The deets on this Large Utility Tote are as follows:  It holds a LOT of stuff! Perfect for sporting equipment, tailgating, camping trips, tools, etc. Covered rim keeps the bag open to carry bulky items easily and then easily collapses for storage.
You know you want one!
If you want to enter the giveaway, leave a comment letting us know what you would use the Large Utility Tote for.
The Rules
One entry per person. No entries after 5:00 pm Central Time Monday.  Winners will be randomly selected from among entrants. Winners will be announced at 9:00 am Central Time Tuesday.