The winner of the Night & Day Studios giveaway: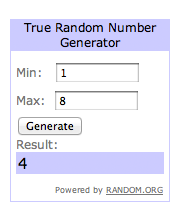 which means the winner is none other than Anna Minney! Anna can you contact me at ak[at]tipsysociety[dot]com so I can get you the info you need. Thanks!
And sorry you guys for being late with the winner announcement…we had a little guy turn 3 over the weekend, which in turn caused us to be putting together and putting stickers on lots of toys…and my house looks like a bomb went off, but we have lots of very cool things mom, very cool.
Thanks for being patient with me y'all!!