As the photographer pictures roll in from Christen I'll be updating you on what she chose.  First up: FLOWERS (my favorite)!! Here are the options we offered up and you can review the poll to see what the consensus was.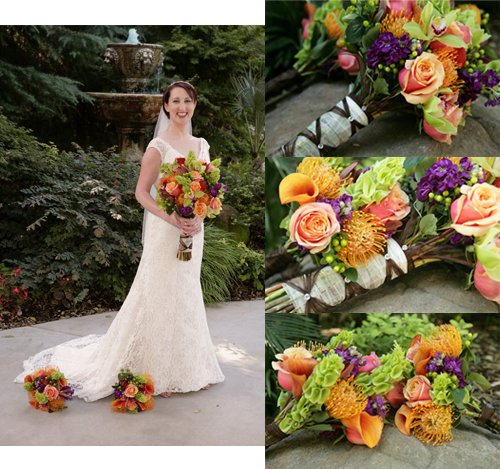 Here's what Christen had to say about the bouquets:
So, I had no clue about flowers, really, other than I knew I wanted in-season and autumn-toned ones.  The suggestions the four of you provided captured that idea, so I printed up the pictures and took them to the meeting with my florist, thinking I was a nightmare client because I didn't have a defined, specific look (I think when she asked which flowers I wanted I said "pretty ones" which isn't terribly helpful).  Well, apparently we lucked out because Angela – our florist – took the pictures and my preferences and ran with it!  We basically combined #1 and #3, and added some orchids and berries.
We LOVE what she did, what do you think?