I'm ready for the sun.  Not alot of stores have gone completely tank top, sandals and shorts, but I am definitely ready for a little spring in my step.  Here are a few pieces and items that I plan on adding to my collection.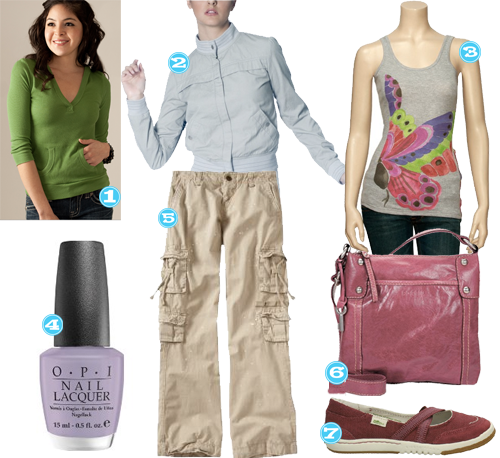 Francesca's Hoodie – if it has a hoodie, put my name on it.  These are thin and colorful.  Totally getting it.
Tulle Jacket – because I like to run my AC right about 80 degrees, I will still need something to cover myself through the next few months.  Too cute.  On another note, I have also realized that I am an addict of this sites Tulle's Day sales.  I racked in 5 nice peices for about 25.00 (including shipping).  You should defintely join their mailing list if you aren't on it already to cash in on the saving.  Der was in on the last sale too and raked it in as well.  It's also fun to call random days 'Tulle's Day', I owe that site for that as well!
Roxy Tank – because its cute.  That is all.
Opi  –  Done out in Deco – I own this color already, so I am ahead of game on this one.  I love it because its a  purple nail color, but not completely offensive.  There is a very fine line there ladies.  Very fine.
Old Navy Cargos – am I too old to wear these?  Probably.  Will they flatter my figure?  Most likely not.  Are they badass because they have tiny little paint splatters on them? Hellz yes.
Fossil Crossbody – as long as my obession with cross body bags doesn't turn to fanny packs, I think the tipsy girls will still dig my style.  I can't decide if I need this one in red or pink?
Simple Slippers – I'll need these for when I feel like wearing red seude shoes.  I don't know about ya'll but that may just be every day for me.