My beautiful little sister got married a couple of months ago, 9/26/09, and I wanted to share how AMAZING it turned out. Not only was it amazing, but the entire thing cost just under $10,000, which, in wedding terms, is on the cheap side…especially with a crowd of around 100 people!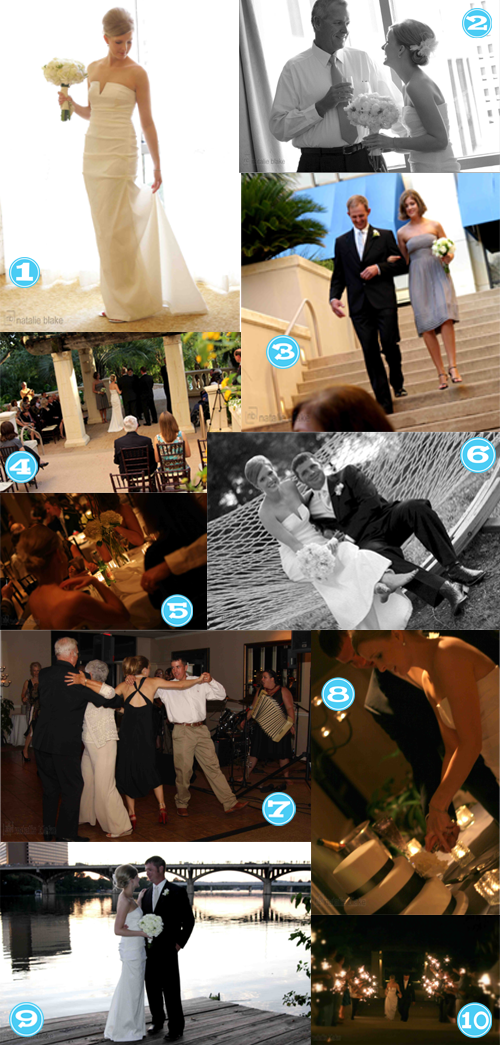 1. THE DRESS: Wedding dresses are crazy expensive, especially if they're a recognized designer. However, Rachael was able to find a surprisingly affordable Nicole Miller dress that I swear was made especially for her. I think the tip is to not go overboard with the fabric of your dress. This particular one was made of a jacquard cotton material. Oh yeah, it took us all of one hour to pick out THE DRESS.
2. This is just a great picture of my sister and our Dad…they were both so happy! (Check out the flower/feather headpiece she wore instead of a veil…classic.)
3. Wedding Party: You're going to hear all kinds of rules and regulations when it comes to picking a bridal party, which, even though you don't realize it, totally adds to the wedding cost as well. I mean, you're talking extra flowers, extra gifts, etc…So, if you want to stay on a budget, keep your wedding party small. Don't worry, your friends won't shouldn't be offended. (That's me in the picture, aka the Maid Matron of Honor, and my dress was AWESOME!)
4. The Venue: This is a tricky one because every place you fall in love with wants to charge you an arm, a leg, and all your hair just to book it! We did a lot of research on this one and wound up having the wedding and reception at the upscale Shoreline restaurant in Austin that overlooks TowneLady Bird Lake. What saved us the moola is that they don't have a rental fee! You do have a food and beverage minimum, but you would have spent that anyway…so bam…$2,000 (average rental fee) back in our budget! (Did I mention that our menu consisted of hand-passed hors d'oeuvres, salad, grilled chicken w/ preserved lemon and sun-dried tomato sauce, and prime rib?)
5. Flowers: Keep them simple! Rachael opted for amazing bouquets for herself and I that included a lot of different flowers that had a lot of texture, but when it came to the table decorations, she kept it classic and simple with short hydrangea centerpieces and tall hydrangea and curly willow centerpieces at alternating tables. Oh yeah, and candles…you can never have too many candles…so romantic!
6. The happy couple: If you look closely you can see the lake in the background…and look at the cowboy boot-clad Groom and barefoot Bride…totally Austin…
7. Entertainment: Band vs. DJ is always tough. Rachael ended up finding a great local southern rock band that charged a minimal fee AND played at the ceremony too…double-score! (Seriously, she gave them the music she wanted them to play at the ceremony and they played it amazingly.) They were great and they kept the dance floor packed ALL night!
8. Cake: I don't have any budget-saving tips on this one except that there wasn't a typical "Bride" and "Groom" cake…there was only one. However, Rachael did alternating layers on the cake. Her layer was an almond-butter cake with passion fruit preserves and Sam's (the groom) layer was red velvet. Stardust Pastry was the cake designer and it was perfect!
9. Another one of the Bride and Groom…was this not the most perfect setting?
10. The Getaway: Sparklers are cheap, but oh what an exit they make…
Congrats Rachael and Sam…we wish you a lifetime of happiness together!
Many thanks to the great photographer, Natalie Blake, for capturing these happy moments.